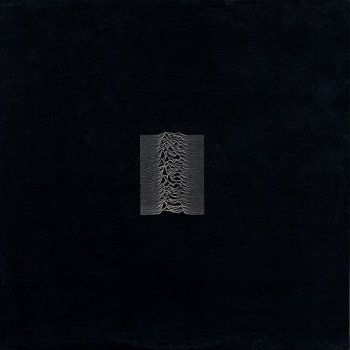 Download zip file.
Artist: Joy Division
Album: Unknown Pleasures
Released: 15 June 1979
Producer: Martin Hannett
Genre: Post-Punk

---
Like Nothing that Came Before
Joy Division's debut still sends chills down my spine.
by Paul Martz, December 14, 2016
---
It's difficult to name an alternative rock band that was more groundbreaking and influential than Joy Division. They took the rough, jangly, garage sound of bands like The Velvet Underground, The Stooges, MC5, and Sex Pistols, and transformed it into something moodier and more melodic—musical elements you still hear today in more recent bands, like Arcade Fire, Death Cab for Cutie, and 21 Pilots. Since their 1980 demise, Joy Division has only grown in popularity and influence, giving birth to post-punk, gothic rock, and modern-day alternative rock. U2, The Cure, Radiohead, and Nine Inch Nails credit Joy Division with influencing their sound.
Peter Hook (bass) and Bernard Sumner (guitars, keyboards) formed the band after the now-legendary July 20, 1976 Sex Pistols concert in Manchester, UK, then added Ian Curtis on lead vocals. Originally named Warsaw, the band went through a number of drummers before Stephen Morris joined in July 1977, rounding out the quartet for their two studio albums with Factory Records. Both albums peaked at #1 on the UK Indie chart. Two months before Closer, their second album, Ian Curtis tragically committed suicide. The surviving band members continued on as New Order. For a more complete history of the band, see the films 24 Hour Party People (2002) or Control (2007), or read the book Unknown Pleasures by Peter Hook.
Video—Joy Division's first TV appearance, performing Shadowplay. Tony Wilson of Factory Records introduces the band.
Hook's inventive upper-octave bass melodies are the beating heart of Joy Division's signature bass-heavy sound. Sumner's guitar work is pure genius—combining darkness and light, powerful domination and cold minimalism. Morris drums like an ape raised in the darkest jungles of Africa. Together, they form a rhythm section that is magnetic, moody, and infectious.
The music creates a melodically psychotic backdrop for Curtis's surreal, cathartic, and deeply personal lyrics. With his warbling and frequently discordant Morrison-esque baritone, he cries out for help to anyone who will listen. Curtis suffered from epileptic seizures requiring heavy medication. The epilepsy, an unhappy marriage, a love triangle, and the demanding schedule of an up-and-coming musician ultimately drove him to suicide, and rock and roll lost a great artist as a result.
Now an icon of alternative rock, Unknown Pleasures' alien cover appears to exist outside of time, futuristic yet unimaginably ancient. Designed by graphic artist Peter Saville and printed on heavy textured cardboard with a matte finish, it was based on a diagram of radio waves from a distant pulsar, a burst of energy from an isolated corner of the galaxy. The black background is reminiscent of Nigel Tufnel's famous quote from the movie Spinal Tap. "How much more black could this be? And the answer is none. None more black." The album replaces the traditional Side A / Side B paradigm with Outside and Inside, complementing the album's dual themes of isolation and intimacy.
Outside (Side A) starts with Disorder, a frenetic and paranoid post-punk classic that introduces you to Curtis's visceral lyrics. Insight always gets stuck in my head, thanks to Hook's catchy high-octave bass melody. This track is also a testament to Hannett's hands-on production style, almost as if he were a fifth member of the band. On Insight, it's hard to tell where Joy Division stops and Hannett begins. Outside closes with the barely restrained anthem, New Dawn Fades, arguably the album's strongest track.
Video—Joy Division performs Transmission and She's Lost Control, plus an interview with Tony Wilson, Stephen Morris, and BBC DJ Paul Burnett.
In She's Lost Control, the Inside (Side B) opener, Morris's psycho-synth drumming, Hook's tense soprano-bass melody, and Sumner's meat grinder guitar come together to form the dark landscape for Curtis's manic and jarring expedition into epilepsy. This track has always been one of my favorites. it's followed by the stirring and surreal Shadowplay. Listen closely to this song's lyrics for an excellent example of Curtis's poetic talent. Sumner's electrifying guitar solo coda is a sonic masterpiece. Interzone features a distorted chain saw guitar, straight-ahead drums and bass, and frenetic call-and-answer vocals (with Hook). It's pure '70s punk. The album concludes with the gloomy, almost frightening, I Remember Nothing. Sumner plays sparingly, underscoring the isolation in Curtis's vocals, and Hannett's broken glass adds a disturbing patina to this dirgeful gothic-rock masterpiece. The coda winds into the album's label groove, echoing endlessly.
Two songs—Candidate and Wilderness—were written in the studio and feel somewhat unfinished, like a work in progress. Both songs fit seamlessly with the other tracks due largely to Hannett's excellent production. If you compare Unknown Pleasures to the live tracks on the posthumous Still compilation, you'll hear the band's much rougher and more punk sound. Hannett dug past the punk facade, and instead presented the band's emotionally-charged core psyche. In his biography, Hook compared Hannett's work on Unknown Pleasures to preserving the band in amber. Hannett went on to produce several other bands, including Magazine, The Durutti Column, Happy Mondays, and New Order.
My vinyl collection contained Unknown Pleasures, of course. I also owned Transmission, the non-album single that first thrust the band into the spotlight and garnered attention from BBC DJ John Peel. I had their second album, Closer, on a cassette copy, then later on CD, but never on vinyl. Their first posthumous compilation, Still, is a must-have, if nothing else, for the fantastic live cover of The Velvet Underground's Sister Ray. I've documented the post-Curtis transition to New Order with New Order's first three 7" singles and their debut album Movement, also produced by Martin Hannett.
---
Next:
Killing Joke - Killing Joke
. Previous:
Elton John - Step Into Christmas 7" Single
.
All Album Reviews
.