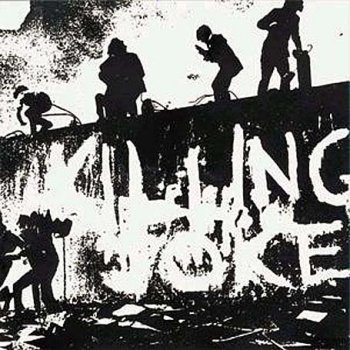 Download zip file.
Artist: Killing Joke
Album: Killing Joke
Released: September 1980
Producer: Killing Joke
Genre: Rock, Punk, Heavy Metal

---
The Godfather of Grunge
This album is a heavy metal punk rock underground classic.
by Paul Martz, November 30, 2016
---
Maybe you've never heard Killing Joke's eponymous debut album, but members of every cool band you listen to cited it as influential. They listened to this album back when they were punk kids—riding skateboards, hanging out in each other's bedrooms, and listening to the harshest, heaviest rock they could blast their eardrums with. Former Nirvana drummer and Foo Fighters frontman Dave Grohl claims it as his favorite album, and every band from Metallica to Tool to Soundgarden cites it as an influence on their music. Dozens of bands adopted this sound in the years after 1980, but when Killing Joke first hit the record shelves, its category-defying quasi-metal, post-punk sound was fresh and exciting. Today, it's considered the godfather of the Seattle grunge sound, an underground classic that has influenced industrial metal, heavy metal, and gothic rock.
The stark album cover is based on a 8 July 1971 photograph of rioters in Northern Ireland fleeing from CS gas released by the British Military. It sends a clear message to anyone considering purchasing the album—Prepare to be taken to a dark and desolate place. The album's music makes good on this promise. With heavy distortion on the guitar and keyboards and primitive jungle drums and bass, the sound is cold, metallic, and unforgiving.
Requiem kicks off side A with a percussive keyboard intro bleating like an alien signal from a distant star. It's followed by the heavy metal Wardance, with a repetitive series of eighth notes that unceasingly assault your eardrums. The eerie Tomorrow's World is followed by the peppy instrumental Bloodsport, which I recommend to anyone as an introduction to the band. It's a good first song to listen to, poppy and upbeat, lacking the heavy sound that dominates the rest of the album.
Side B opens with The Wait, later covered by Metallica, and perhaps my personal favorite track from this album. It has a hard driving beat that makes me air-drum along on any nearby tabletop, and an echo-heavy post-punk chorus that always gets stuck in my head. The two tracks that follow, Complications and Change, hit me the same way—hard rocking with a contagious chorus. Change appears on this US release, but was absent from the original UK pressing. S.O.36 is unique on this album, with its slow droning beat, military drumming, and foreign language voiceover. The album concludes with Primitive, a triumphant post-punk anthem that is almost Buzzcocks-like, if only it were just a bit poppier.
The album has a surprisingly consistent sound and feel, thanks to the constant distortion on the guitar and keyboards, and perhaps because of the band's unsophisticated self-production style.
Killing Joke's sound mellowed with the release of subsequent albums, resulting in a few UK hit singles. Although they underwent several lineup changes, founding members Jaz Coleman (vocals, keyboard) and Geordie Walker (guitar) have remained throughout the band's history. In 2005, they received the Kerrang "lifetime achievement" award. Although the band has released multiple studio and compilation albums, this debut is the only Killing Joke album I ever bought, and I really have no good reason for why that's the case. I'll likely purchase more of their material on MP3 in the near future.
---
Next:
Rush - A Farewell To Kings
. Previous:
Joy Division - Unknown Pleasures
.
All Album Reviews
.