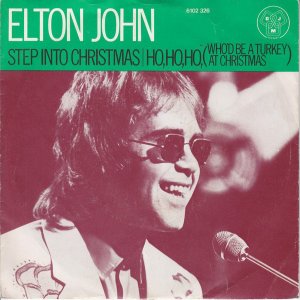 Download zip file.
Artist: Elton John
Album: Step into Christmas
Released: 26 November 1973
Producer: Gus Dudgeon
Genre: Christmas, Pop

---
Two Christmas Classics
A review of two perennial favorites from the early '70s
by Paul Martz, December 21, 2016
---
Two Christmas classics—Elton John's Step into Christmas and Cheech and Chong's Santa Claus and His Old Lady, are from my wife's excellent collection of '70s rock and pop 7" singles.
Step into Christmas was released in November 1973, between two other Elton John chart-toppers—Goodbye Yellow Brick Road earlier that year, and Candle in the Wind in 1974. With its upbeat chord progression, positive and witty lyrics, and studio-polished pop melodies, it's no surprise that Step into Christmas peaked at #1 on the Billboard Christmas Singles chart and still receives regular holiday airplay.
The song was written by the renowned songwriting duo of Elton John and Bernie Taupin. It showcases their musical and lyrical talent, and epitomizes the trademark Elton John style that every '70s pop aficionado is intimately familiar with.
Gus Dudgeon is best known for his production work on multiple Elton John albums and singles, but has also worked with The Zombies, Joan Armatrading, and Fairport Convention, as well as several other artists. In Step into Christmas, Dudgeon attempted to create a Phil Spector Wall of Sound atmosphere, with multiple instrument layers, use of audio compression, and pushing recording levels to their limits.
The forgettable B-side, Ho, Ho, Ho (Who'd Be a Turkey at Christmas), is an indication that the band was rushed to put out a single in time for the holiday season. Most of the effort went into the A-side, and the B-side sounds more like the result of alcohol-induced exhaustion. But at least they were having fun, as evidenced by the joyful giggly coda and overall lack of pretension.
Video—Step into Christmas official video.
---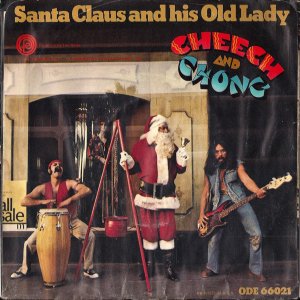 Download zip file.
Artist: Cheech and Chong
Album: Santa Claus and His Old Lady
Released: December 1971
Producer: Lou Adler
Genre: Christmas, Humor

Two years prior to Elton John's Step Into Christmas, Cheech and Chong released their debut single, Santa Claus and His Old Lady. The song is now a staple of Christmas season pop radio, and many of my friends have declared "It isn't Christmas until you hear Santa Claus and His Old Lady." The A-side was never on a Cheech and Chong studio album, but has appeared on several later compilations.
This comedy Christmas classic is filled with themes contemporary to its 1971 release date—Mrs. Claus bakes marijuana brownies, the reindeer fly thanks to magic dust, and Santa runs into problems crossing the border due to his long hair and beard. It's a period piece for baby boomers and the hippie generation.
If you had bought the single when it came out, it would've been worth the purchase price just for the B-side, Dave, a drug-themed comedy sketch and source of their trademark line, "Dave's not here."
The duo went on to release multiple comedy albums and movies, including 1978's Up in Smoke, which grossed over $44 million in spite of it's low budget production. Their album Los Cochinos won a Grammy for Best Comedy Recording. The duo voiced characters in the movie Fern Gully, as well as an episode of South Park, and Cheech Marin starred in the TV series Nash Bridges.
Producer Lou Adler is an icon of the rock music industry, perhaps best known for producing Carole King's Tapestry album. Adler also worked with The Mamas & The Papas, and produced films including Cheech and Chong's Up in Smoke and the cult classic The Rocky Horror Picture Show.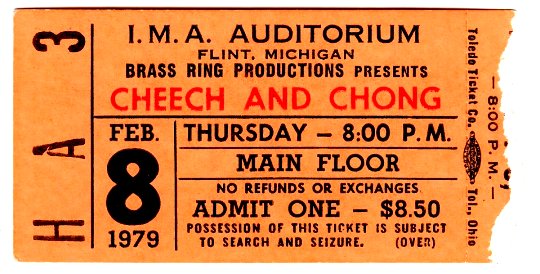 1979 Cheech and Chong ticket stub.
---
Next:
Joy Division - Unknown Pleasures
. Previous:
Echo & the Bunnymen - Heaven Up Here
.
All Album Reviews
.