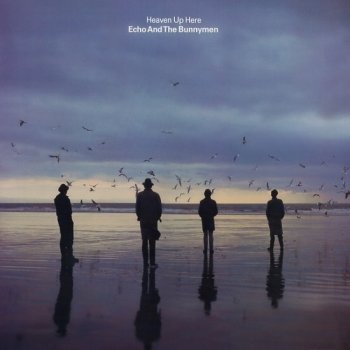 Download zip file.
Artist: Echo & the Bunnymen
Album: Heaven Up Here
Released: May 30, 1981
Producer: Hugh Jones, the Bunnymen
Genre: Post-Punk

---
Heaven Up Here: Echo & the Bunnymen's Majestic Second Album
by Paul Martz, October 4, 2016
---
I still remember the first time I heard this album. Flint, MI's WFUM college radio played it in its entirety at about 1:00am some morning in early June 1981. It spoke deeply to my soul. I ran out to Grapevine Records the next day and bought it. It has been a treasured album ever since.
If you've heard of the Bunnymen at all, it's likely it was the 1987 song Lips Like Sugar from their fifth eponymous album Echo & the Bunnymen, or perhaps The Killing Moon, which appeared in the soundtracks of Grosse Pointe Blank and Donnie Darko. But they were charting in the UK since the release of their 1980 debut album Crocodiles. Both Echo & the Bunnymen and U2 originated in the UK post-punk movement, and released debut albums in 1980. While U2 went on to fill stadiums around the world, Echo & the Bunnymen never achieved comparable success in the US.
Frontman Ian McCulloch got his start in a local Liverpool band (The Crucial Three) in 1977, with Julian Cope, who later went on to form The Teardrop Explodes. The two wrote some songs together, including
Read It In Books,
which appear on both
Crocodiles
and The Teardrop Explodes' debut
Kilimanjaro.
Producer Hugh Jones' credits include Simple Minds, The Damned, Modern English, Adam and the Ants, and Icicle Works. On Heaven Up Here, Jones creates a haunting, jangly, and moody blend of danceable '80s post-punk, with roots deeply embedded in the British music scene. Maybe even hints of Pink Floyd, or a neo-psychedelic echo of the Beatles. In summary, the production is timeless, as if the Bunnymen were preserved in crystal.
The music is somewhat darker than their Crocodiles debut, but nonetheless deeply emotional, sweeping, even majestic. Side A opens with the track Show Of Strength, and the lead guitar riff always makes me feel like I'm in another dimension, strange and unfamiliar. Some tracks are unearthly and morbid, such as The Disease and All My Colours, while A Promise and No Dark Things are uplifting and optimistic. When It Was A Pleasure comes up in shuffle, I just can't sit still. It is irresistibly danceable.
I must not fail to mention Shine So Hard,, the four track live 12" E.P., which was released after Crocodiles, but just before Heaven Up Here. This is a wonderful snapshot of the Bunnymen live in concert, just as they began to receive UK notoriety.
The album peaked at position 10 on the UK album chart, but didn't fare as well in the US, peaking at position 184 on the Billboard 200.
---
Next:
Elton John - Step Into Christmas 7" Single
. Previous:
Doll By Doll - Remember
.
All Album Reviews
.