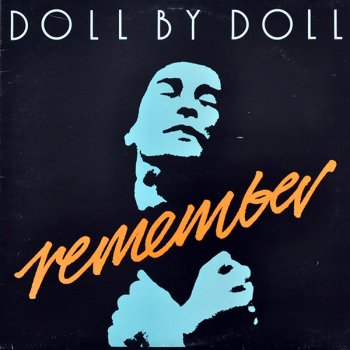 Download zip file.
Artist: Doll By Doll
Album: Remember
Released: 1979
Producer: Bill Price, Doll By Doll
Genre: Rock

---
The Band No One Remembers
This might be the best rock and roll album you've never heard.
by Paul Martz, December 7, 2016
---
With artists like Gloria Gaynor, ABBA, Dr. Hook, Blondie, The Police, and Elvis Costello crowding the charts, the 1979 UK music scene was clearly transitioning from disco to new wave. While Led Zeppelin and Pink Floyd managed anemic chart positions, the Rolling Stones didn't even release an album. In the UK, traditional rock was all but dead. So when a new band debuted with a hard-rocking sound, street-smart lyrics, and soulful '60s-era four-part harmonies, it's no surprise that they were largely ignored by the music press.
Back in the '80s, Doll By Doll's debut album, Remember, didn't mesh with my other tastes, which included Gang of Four, The Cure, and Joy Division. A friend noted this apparent discrepancy, and asked me why I liked the album. First of all, my love for distortion-laden, wallpaper-shredding, guitar-oriented rock and punk is well-documented. Second, I've always had a taste for the obscure. The less I hear it on the radio, the better. Doll By Doll fits both criteria to a T.
As I've aged, I now realize there's a third redeeming quality to Remember: frontman Jackie Leven's top-rate songwriting and arrangement talent. This album is on par with Television's Marquee Moon or anything by Warren Zevon. These tasty songs often feature complex and beautiful arrangements, with emotional and evocative lyrics that reward the listener with a glimpse into Leven's frequently dark and tortured soul.
Side A opens with Butcher Boy, a hard-rocking journey into the derelict visions of society's rough side. As a drummer, I frequently fail to notice lyrical content, but this song's powerful words jump out of the speakers and slap me in the face. Chances is a swinging love song, and its lyrics, like "I'm here to remind you that love is a verb", are convicting. Side A concludes with Sleeping Partners, featuring dark imagery and a crescendo coda that must be played at top volume.
Side B opens with More Than Human. The lyrics to this song were printed on the album's inner sleeve, and they present a cynical, defeatist view of love. "Love is the thing that separates, love is what makes us make mistakes." The next track, Lose Myself, is a straight-ahead rocker that I just have to tap my foot to. The love song Janice is one of my favorites, with dreamy lyrics like "Walking backwards through the snow, baby please don't go." Janice highlights the band's four-part harmonies like no other song on the album. The Palace of Love concludes the album in classic rock and roll fashion. The sonic coda vascilates from angry to apoplectic, with enough feedback and distortion to resurrect Lou Reed and Jimi Hendrix from their graves.
The raw and uneven production quality complements Leven's occasional flat note, giving the album an overall rough yet sincere feel. The guitar work is a sonic masterpiece that meshes well with the amateurish production quality. You won't find a lot of overdubs or effects on this album. It has that pure and simple sound that you associate with a rock quartet going into the studio to capture their unembellished personality for the first time.
Like Remember, the follow-up albums Gypsy Blood and Grand Passion also failed to receive significant attention from either the music press or the listening public. Doll By Doll disbanded in the mid-'80s, and their music is now all but forgotten.
---
Next:
Echo & the Bunnymen - Heaven Up Here
. Previous:
The Cure - Boys Dont Cry
.
All Album Reviews
.