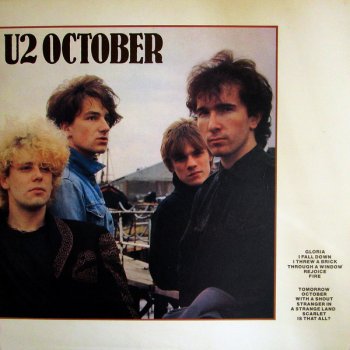 Download zip file.
Artist: U2
Album: October
Released: October 12, 1981
Producer: Steve Lillywhite
Genre: Rock, Post-Punk

---
October: U2's Overlooked Second Album
by Paul Martz, September 28, 2016
---
U2's groundbreaking 1980 debut album Boy was widely ignored by AOR radio in the US. Nonetheless, they achieved a substantial cult vollowing thanks to undergrouns music magazines and word-of-mouth. I became aware of the group when a friend gave me a mix tape in late 1981 containing the song Stranger In A Strange Land, a track from U2's second album October.
October's album art shows a young U2 (Bono is 21 here) on the verge of taking over the world, and well aware of that fact. According to Peter Hook's book Unknown Pleasures, Bono was famously quoted as telling Martin Hannett that U2 would simply take over as post-punk posterboys in the wake of Joy Division lead singer Ian Curtis's death. A pretty ballsy statement for a guy barely out of his late teens, but nonetheless true. The lower right corner of the album cover lists all album tracks, giving the cover art a retro feel.
The album's power comes from the group's love for their Irish homeland and exploration of their Christian faith. Christian themes are not typically found in rock music, and even rarer in the post-punk genre. Nonetheless U2 incorporates their Christian faith seamlessly in the album. I wish more bands would take this approach, but sadly contemporary music has quarantined Christian themes to their own genre box.
The album opens with Gloria, fading in from the ether and launching into U2's trademark percussive guitar and powerful drum sound. Toward the end of the song, producer Steve Lillywhite breaks a few glasses, frosting to U2's cake. The uplifting and energetic Rejoice features a hypnotic drum break and discordant conclusion. Fire, portends their later Unforgettable Fire album in name, and terminates Side A with a dark and moody exclamation mark. Tomorrow starts melancholy, with an ethereal and distinctly Gaelic intro, then builds to an energetic and explosive ending. Its Christian lyrical theme pairs with the title track October, calmly restrained with the welcome addition of piano. The album closes with Is That All?, both an appropriate climax, as well as a philosophical question.
October received mixed reviews. Nonetheless, it peaked at number 11 in the UK, and almost broke into the US hot 100, peaking at position 104. Reviews and ratings aside, I love the album's dramatic and emotionally charged pop songs.
This album has withstood the test of time to remain one of my favorites. I purchased the follow-up album, War, featuring their breakout hit Sunday Bloody Sunday, but eventually tired of listening to its much more radio-friendly sound. October's music seems much more timeless. Aside from purchasing the remastered Boy as MP3 files, I stopped buying U2 albums after War.
---
Previous:
Rush - A Farewell To Kings
.
All Album Reviews
.